IQcent Review
Nowadays, online trading is an increasingly popular activity. Whether it is to trade in the forex market, CFDs, options or cryptocurrencies, a growing number of individuals are launching into this lucrative business. Thanks to the digitalization of the economy and the advent of the internet, the financial markets are now accessible on many online trading platforms and this from anywhere in the world.
Thanks to all these new trading platforms, more and more people are interested in online trading, either to earn additional income rounding the end of the month or as a full-time job.
However, trading with the wrong broker can reduce your chances of success to zero. Trading with a serious and trusted broker is essential to ensure the full potential of your investments. In the growing online trading industry, there are always very bad brokers and plenty of scams out there, so it is important to do some research on the web and seek out information about the seriousness and reputation of your broker.
In this article, we will give you a complete tour of the IQCent broker, give you information about this brokerage company, introduce you to the features and services offered by this broker, as well as some important information that you need to know about IQCent.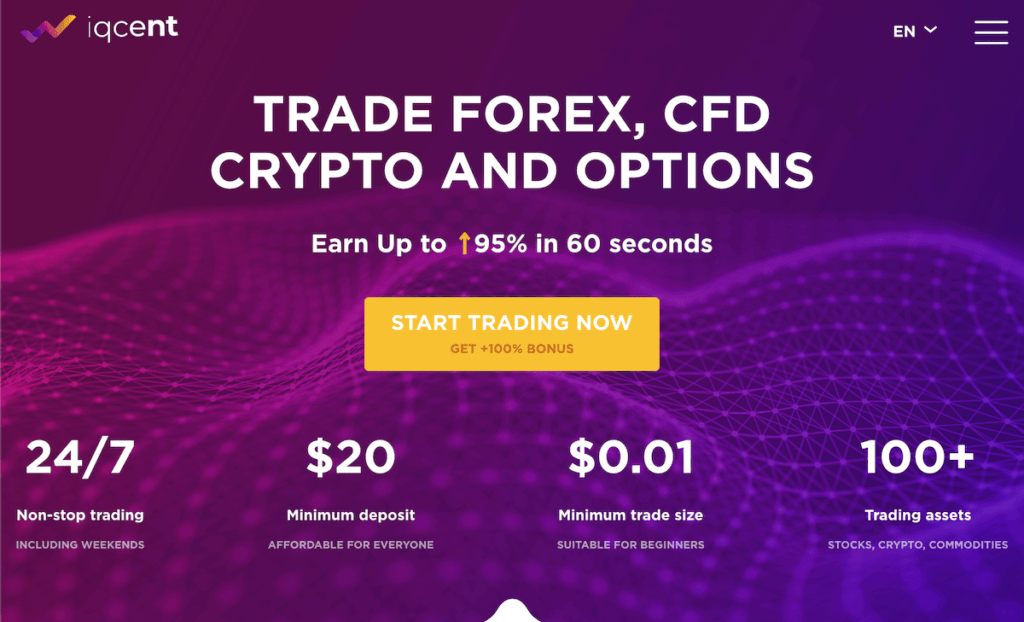 Use promo code IQCent LIMBO20 to get 200% bonus
What is IQCent?
IQ cent started providing online trading cervices in 2017 and offers these clients the possibility to trade Forex, CFDs and binary options from its trading platform.
The main advantage of IQCent over the competing broker is that it is one of the only binary options and CFD brokers that allow trading with small trading positions of just 0.01 cent.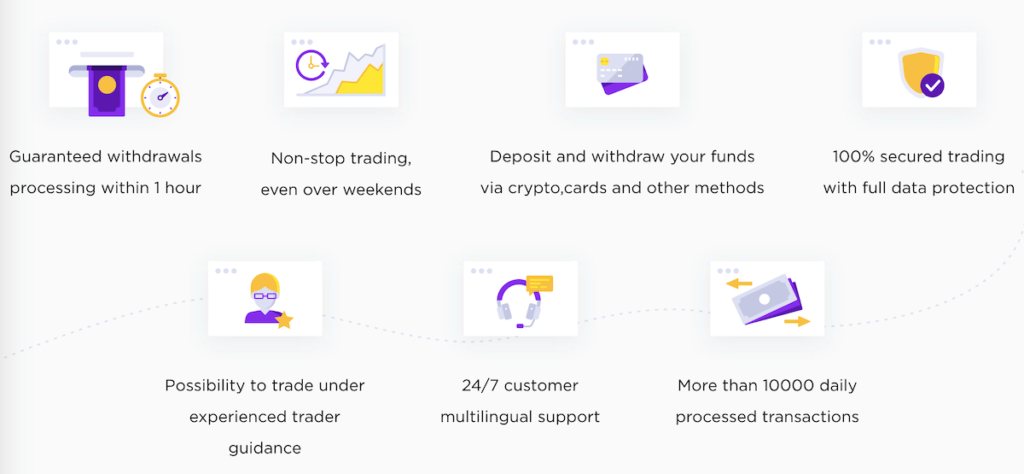 IQ cent operates under the company name Wave Maker LTD which is a brokerage firm based in Majuro, Marshall Islands.
Regulation is often an important criterion when choosing your broker. The broker's regulations offer the trader a guarantee of compensation in the event of a problem with the broker. In the online brokerage industry, there are unregulated brokers with good reputations who are legitimate. But there are also a lot of unregulated brokers who are just scams.
IQCent is not a broker regulated by the most respectable financial market regulators.
Although regulation is an important criterion to ensure the reliability of brokers in general, you can definitely make the decision to trade at IQ cent, however we recommend that you take your precautions, especially when trading binary options, currencies or CFDs with an unregulated broker like IQcent.
IQCent Trading platform
The IQCent broker provides these clients with a simple and intuitive binary options and CFD trading platform. This trading platform is specially designed to offer a pleasant trading experience and meet the needs of traders. The IQcent trading platform offers numerous graphical tools and a large set of indicators for technical analysis.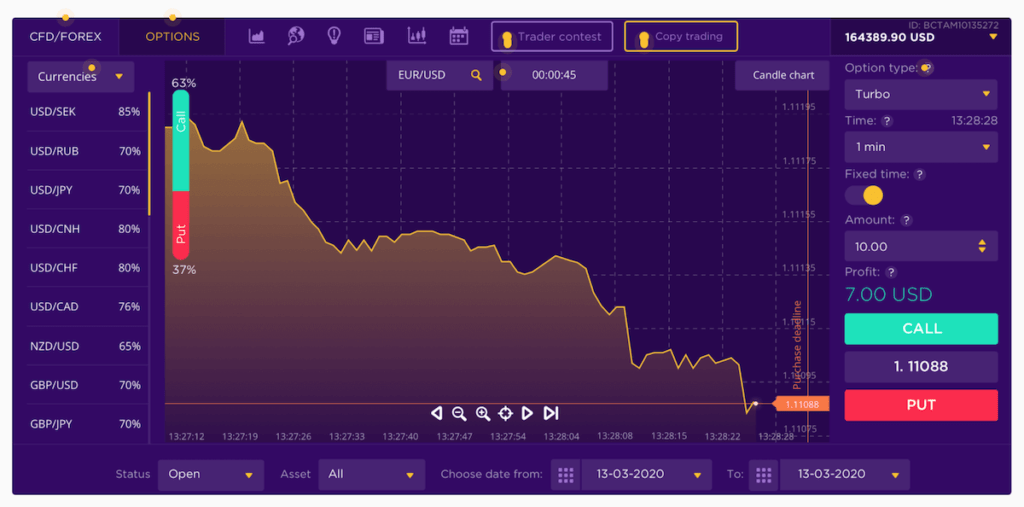 You would find on the left of your screen the list of available assets in IQcent. As in most trading platforms the main chart is located in the center of the screen.
The trading platform has menus allowing you to configure buy and sell orders, you would find these menus containing the Call and Put command buttons on the right of the platform.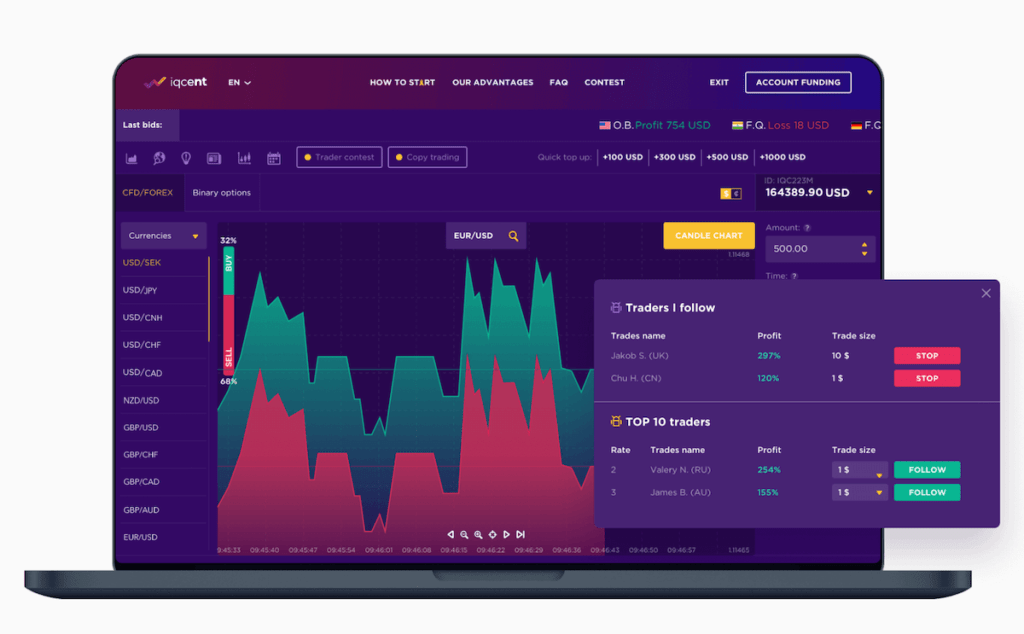 This broker also includes a Copy Trading function in its platform. Copy trading is a useful function that allows the trader to copy the trades of the best traders. This gives the trader the opportunity to earn money on the market without any experience with online trading.
Overall, this trading platform offers most of the elements that traders need to trade binary options, forex and CFDs.
Assets and trading instruments
You can trade 100 assets on IQcent. This broker includes in its list of trading instruments: Shares, Cryptocurrencies, commodities, Indexes as well as Forex currency pairs
Most of the most popular assets are available from the broker IQcent, in the list of popular assets you would find the main forex currency pairs, the most commonly traded commodities such as oil or gold, Stocks of listed companies at NASDAQ and SP500 as well as many other assets such as cryptocurrencies.
You can find out about all the assets available from the IQ Cent broker on their official website. Please take into account that the broker offers a different list of assets following the financial derivative that the trader uses. The list of assets in the form of binary options is different from the list of assets in the form of CFDs.
On the Forex and CFD side, IQCent offers the trader the possibility of using a leverage of 1: 100 for Forex and CFD trading and can reach up to 1: 500 on certain assets offered on the platform.
IQCent is a broker offering the possibility of trading 24/7 on certain markets, notably cryptocurrency. However, some markets are not available on weekends or at certain times like the forex and the stock market due to the market close time. Only the crypto market in the form of options or CFDs are available at any time.
Regarding trading fees on IQ Cent, the broker does not charge any fees on Forex, CFDs and binary options trading.
However, you may get a fee that is not charged by the broker itself, but by the provider of your withdrawal method. You will find more information about withdrawal fees later in this article.
• Minimum deposit of $ 20
• Return up to 95% + on options trading
• Leverage of up to 1: 500 in CFD trading
• Fixed costs up to 5%
• Several payment methods available
• 24/7 assistance
• Unique web platform
IQCent Accounts types
• You can open 3 types of accounts with IQcent:
• Bronze Account (with a deposit between $ 10 and $ 250)
• Silver Account (with a deposit between $ 250 and $ 1,000)
• Gold Account (with deposits greater than $ 1,000).
IQ cent offers 3 types of accounts with advantages and bonuses which vary according to the type of account selected. IQcent offers a different bonus percentage (from 20 to 100%), in addition to other perks, like obtaining a personal manager and access to Webinars for holders of Silver trading accounts and holders of Gold trading accounts.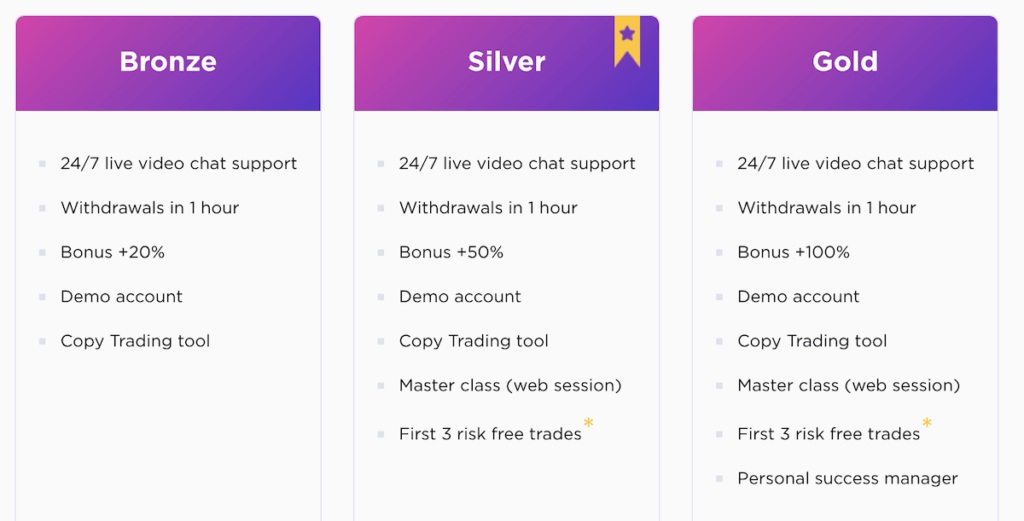 IQCent deposits and withdrawals
IQcent offers the trader the possibility of making their deposits and withdrawals easily and quickly via a wide selection of payment methods, including more than 10 payment options such as Visa and MasterCard debit and credit cards, electronic wallets as well as with a wide selection of cryptocurrencies.
Please note that deposits and withdrawals via debit and credit cards are subject to a 5% fee charged by the payment processor. However, only card payments have fees, all other payment methods available on IQcent do not charge fees.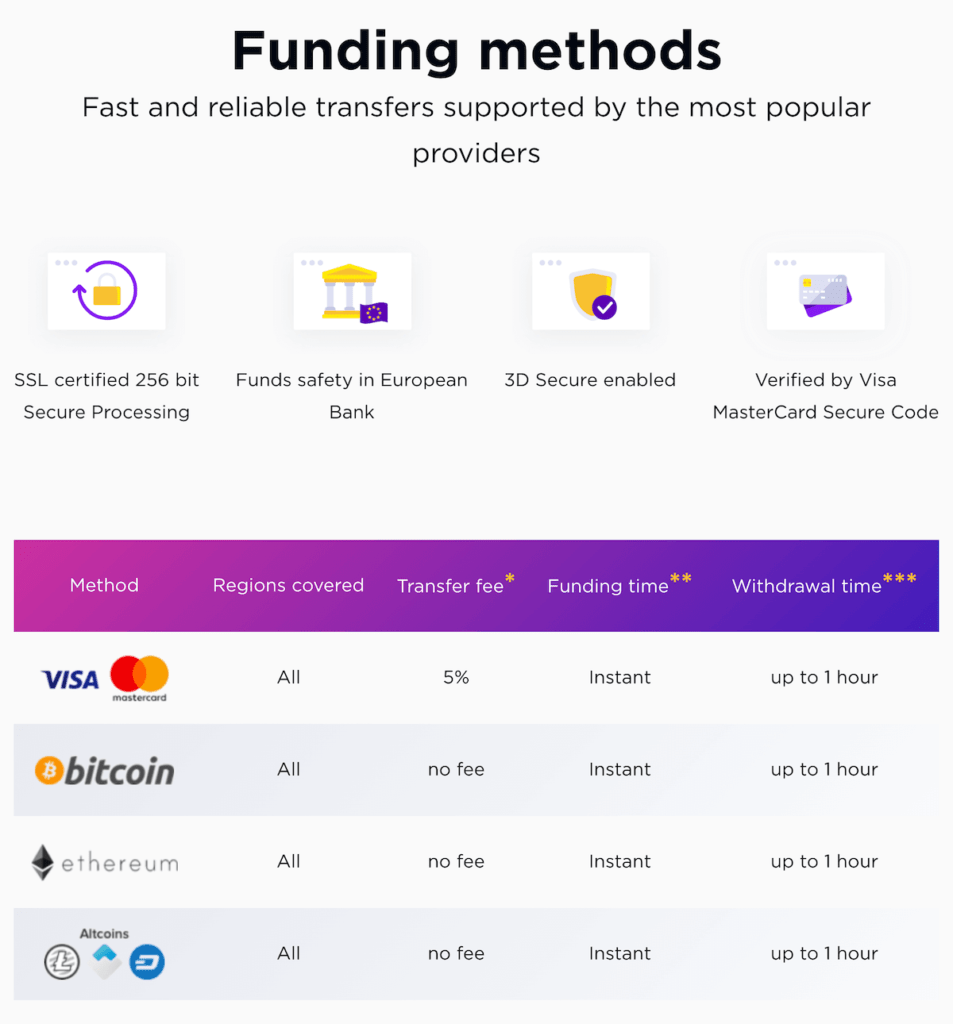 Important withdrawal conditions
Before you begin, it is important to understand the conditions of use and certain rules regarding withdrawals, IQCent requires a certain turnover before letting you withdraw your funds free of charge.
IQCent may charge a withdrawal fee of up to 20% if you withdraw your money before you have traded the equivalent of 300% of your balance (for bonus accounts). You are also required to achieve a turnover of 100% of your deposit for account holders without bonus to be able to withdraw your funds free of charge.
IQCent Trading Tournaments
IQ Cent offers traders the opportunity to participate in weekly trading tournaments with $ 20,000 in rewards up for grabs.
All traders with an IQ hundred trading account are automatically qualified to participate in these weekly trading tournaments.
This broker also offers free gifts each month to the participants of these tournaments, with the possibility of winning many prizes such as iPhone, AirPods and Apple Watch.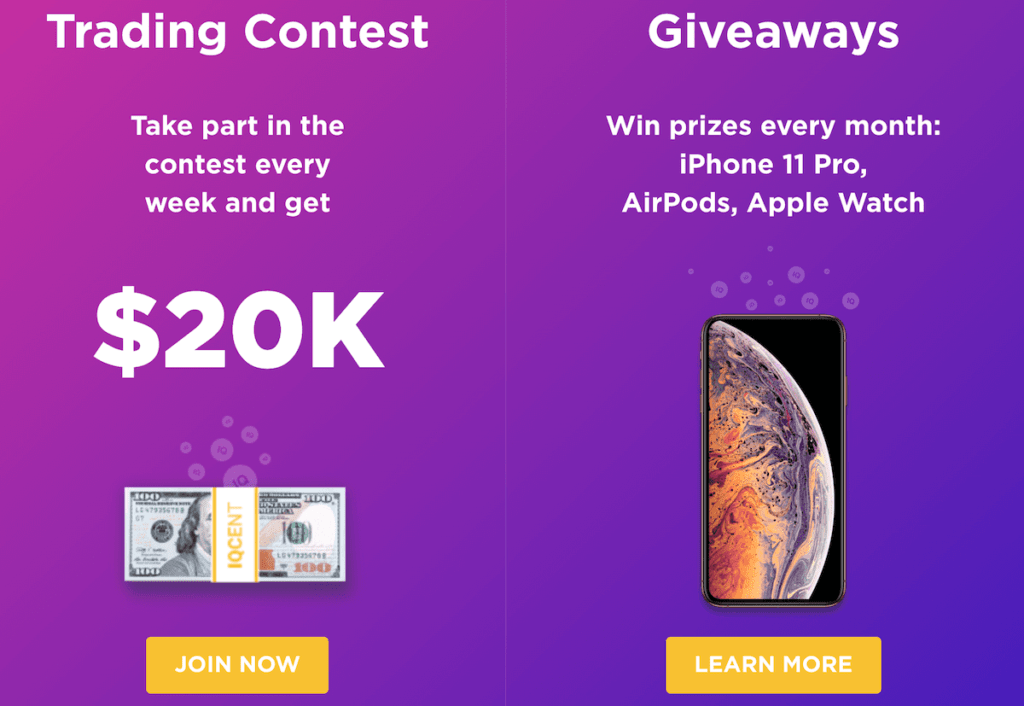 Conclusion of our IQCent review
Although this broker is not regulated by a leading financial market regulator, that does not make IQCent a scam.
this broker is particularly suited to small investors and traders with little capital, allowing them to gain exposure to the market and trade with minimum position sizes of just $ 0.01.
However, this broker also has some drawbacks like the terms of use applied to withdrawal which can frustrate some traders and which is the cause of most negative reviews about this broker. Other defect or disadvantage are notable with this broker as the absence of a free demo account without deposit.
In conclusion, IQcent is a reliable and versatile broker offering the possibility of trading a small amount of money on a wide selection of assets, however this broker also has some faults which could disappoint some traders such as the conditions of fees applied on withdrawals. and the absence of free demo account without deposit.
Use promo code IQCent LIMBO20 to get 200% bonus