Best Crypto Exchanges and cryptocurrency trading Platforms 2022
With the advent of crypto trading platforms, cryptocurrency trading is becoming very popular, largely due to the high volatility offered by crypto assets (rapid price change) an increasing number of investors and traders want to capitalize on the price movements of Bitcoin, Etherum, Dogecoin and more to make profits in the market.
And while investing in cryptocurrency can be intimidating for beginners, and while there are plenty of scams out there, the best crypto exchanges and platforms today are simple, intuitive, and make buying and selling cryptocurrencies more accessible than a few years ago when the cryptocurrency market was just starting out.
We're comparing the security, fees, verification requirements and trading features of 10 popular crypto exchanges and trading platforms, so you can make the best choice.
The table in this article is accurate and up-to-date. Bookmark it and return as you get closer to trading crypto, so you have a handy reference.
Top 10 best crypto exchanges:
eToro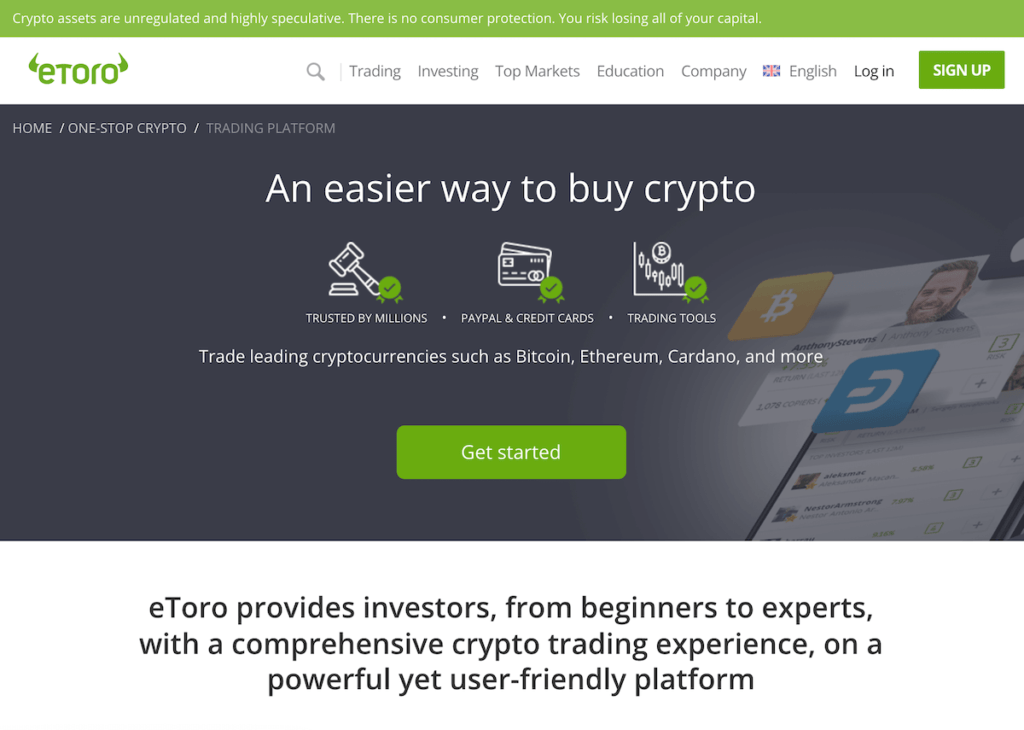 eToro advantages:
Regulated broker
Platform suitable for beginners
Copy trading function
Receive rewards for sharing your trading strategies
Crypto portfolio
Low minimum deposit
(Risk Warning: 68% of retail CFD accounts lose money)
Cryptoasset investing is unregulated in some EU counties. No consumer protection. Your capital is at risk.
eToro was one of the first online trading platforms to offer cryptocurrencies as investment options. Those crypto assets include 24 others, the majority being big names, including bitcoin, Ethereum, XRP, USDT, and BNB. Every trader, newbie or veteran on eToro can enjoy free, real-time market.
There are also social trading features, so you can learn as you trade from more experienced traders, plus up-to-the-minute news about the market. Fees are low, and you can deposit using crypto or fiat.
eToro is a trading platform that offers innovative features that allow you to copy the trading strategies of the best crypto traders registered with the broker. You can also receive rewards if other traders copy your strategies. eToro is one of the only trading platforms offering rewards to traders copied on the platform.
And if you want to learn crypto trading without the risk of losing your money, eToro is one of the only platforms to offer their user a demo account credited with $100,000 of virtual money. This allows you to try out the platform and learn about cryptocurrency investing and trading without any risk of capital loss.
eToro is a multi-asset platform which offers both investing in stocks and cryptoassets, as well as trading CFDs.
Please note that CFDs are complex instruments and come with a high risk of losing money rapidly due to leverage. 68% of retail investor accounts lose money when trading CFDs with this provider. You should consider whether you understand how CFDs work, and whether you can afford to take the high risk of losing your money.
Crypto assets are unregulated and highly speculative. There is no consumers protection. Yous risk losing all your capital.
Binance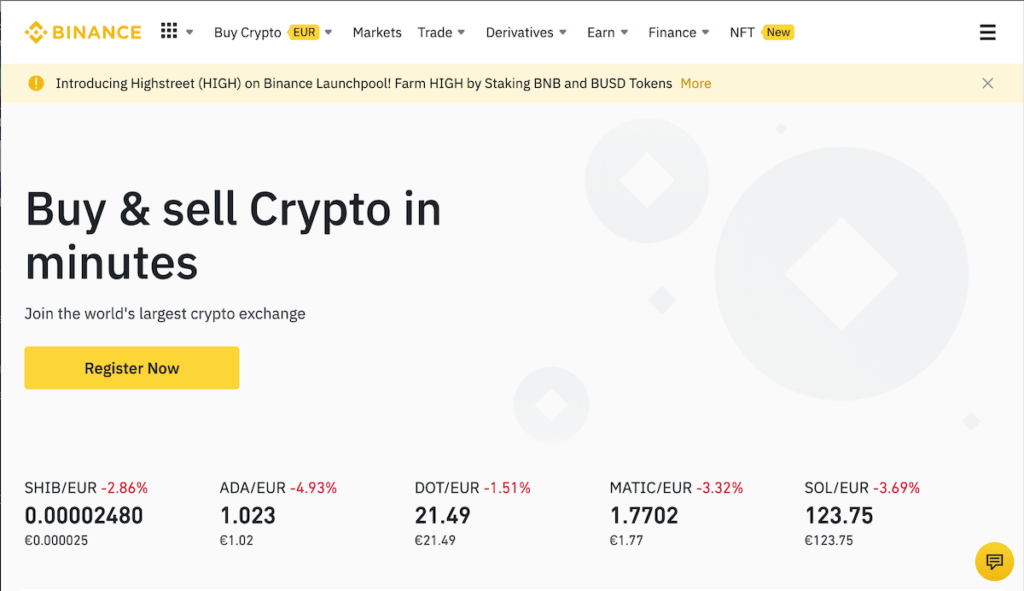 Binance advantages:
Low fee crypto exchange
Wide range of crypto assets available
Platform suitable for beginner traders and expert traders
Margin trading crypto available
Fiat deposits and withdrawals
(Risk Warning: Your capital can be at risk)
Binance is one of the most popular cryptocurrency exchanges worldwide. Binance as started to offer its services in July 2017 and offers a wide range of cryptocurrencies and including BTC, ETH, LTC, XRP, and more than 100 others.
Binance is a fast-growing cryptocurrency exchange that's getting a lot of attention, probably because it's one of the top exchanges for traders. Binance offers traders access to a wide range of crypto assets, including popular coins like BTC, ETH, and BNB, as well as lesser-known crypto coins.
BNB is built on Binance Chain, which is a decentralized blockchain. Binance uses Binance Coin (BNB) as its own native cryptocurrency, which is used to incentivize users as well as to pay for fees or to use in the compatible decentralized crypto exchange like Pancakeswap.
It focuses on the security of funds and the speed of transactions, setting those as its highest priorities. Fees are set at 0.1% and lower for high trading volumes; you can deposit via crypto and fiat currencies, and withdrawals are just as simple. As enticing as those features are, many users are drawn to Binance because it allows for a beginner-friendly user experience, it is a crypto exchange suitable also for expert crypto traders and has good customer service.
Overall, Binance is a serious crypto exchange with everything in mind for experienced crypto investors and traders. This cryptocurrency exchange allows you to speculate on a wide range of cryptocurrencies with relatively low fees. Binance also has 2FA security, a 24/7 customer support, and a dedicated mobile app for Android and iOS.
FTX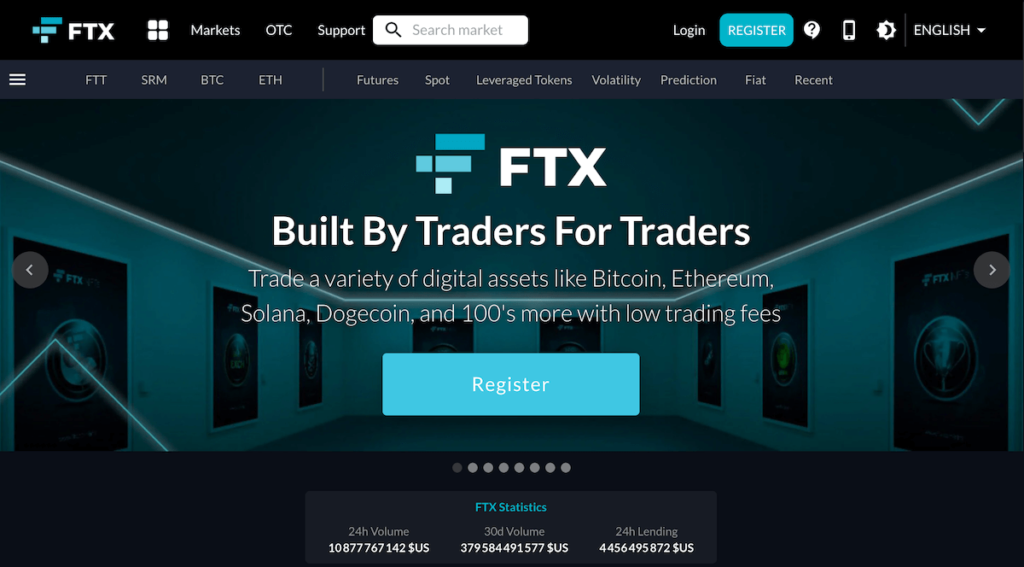 FTX advantages:
Cryptocurrency exchange with low fees
Lot of cryptocurrencies available
Platform suitable for beginner and expert
Cryptocurrency Futures, levraged tokens and Spot trading available
Crypto and Fiat deposits and withdrawals
(Risk Warning: Your capital can be at risk)
FTX is one of the leading exchanges in the cryptocurrency market, and it offers different trading options, including margin trading, futures, and spot trading.
FTX is a cryptocurrency exchange suitable for beginner traders as well as experienced traders. FTX is one of the best cryptocurrency exchanges for margin trading and has created a platform for cryptocurrency trading, futures trading, and leveraged crypto trading.
Fees on FTX are very competitive, with only 0.02% for Makers and 0.07% for Takers, this platform also offers discounts for large trading volumes and holders of FTT coins.
This trading platform allows you to buy and sell more than 130 crypto assets and 10 fiat currencies.
Unfortunately, this trading platform is not available to US traders. However, US traders can trade on the FTX.US site. the US version of the site is similar, but only offers spot cryptocurrency trading; regulations in the United States are much stricter, no form of cryptocurrencies derivatives trading is allowed.
Bybit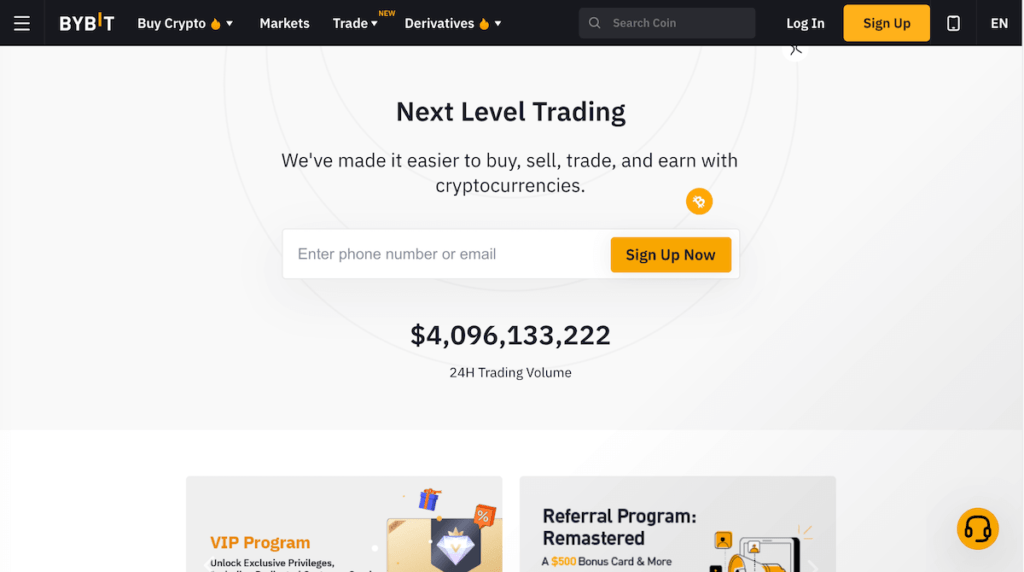 Bybit advantages:
Long and Short crypto with high levrage up to 100x
Platform suitable for expert traders and pro
Cryptocurrencies deposits and withdrawals
(Risk Warning: Your capital can be at risk)
Bybit is one of the leading cryptocurrency derivatives exchanges offering users the ability to trade cryptocurrency with advanced trading tools. However, this platform does not accept customers in the United States.
Bybit allows you to trade cryptocurrencies with up to 100x leverage. Experienced traders can take advantage of the high profits offered by leveraged cryptocurrency trading. Although leverage greatly amplifies your potential profits, it also amplifies the risk of loss.
Users can speculate on the rise or fall of 15 available currencies, among which we find: Bitcoin (BTC), Ethereum (ETH), Bitcoin Cash (BCH), Litecoin (LTC), Tezos (XTZ), Chainlink (LINK) , Cardano (ADA), Polkadot (DOT), Uniswap (UNI), Ripple (XRP) NEM (XEM), SushiSwap (SUSHI), Aave (AAVE), Dogecoin (DOGE) and Tether (USDT)
Bybit users have the ability to leverage up to 100x on Bitcoin and up to 50x on other cryptocurrencies. For advanced traders, the platform is also available via their mobile app with useful features.
Just like other crypto exchange platforms, this platform also gives you the opportunity to exchange one cryptocurrency for another. But, If you just want to trade cryptocurrency for other digital assets, Bybit probably isn't the best choice – it's more suited for leveraged trading.
KuCoin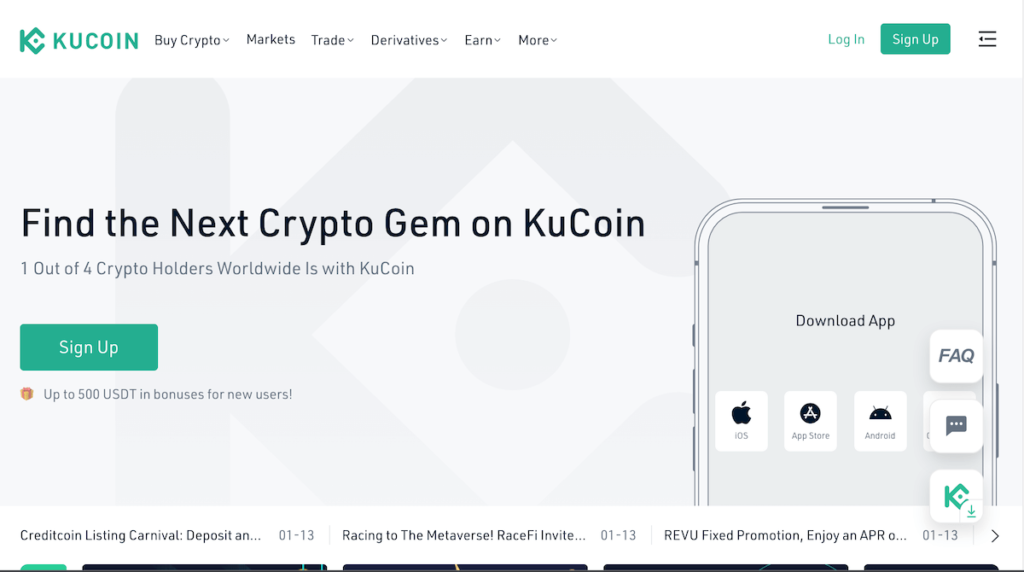 KuCoin advantages:
Buy and Sell more than 500 altcoin with low fees
Platform suitable for beginner and expert
Cryptocurrency Futures, levraged tokens and Spot available
Cryptocurrencies and Fiat deposits and withdrawals
(Risk Warning: Your capital can be at risk)
KuCoin offers these users a platform that allows to buy and sell easily more than 500 altcoins with low fees.
KuCoin started its activity as a cryptocurrency exchange platform in September 2017, The company is located in Seychelles and is one of the most popular cryptocurrency exchange platforms. KuCoin selects the best crypto projects thanks to its research department specializing in the world of blockchain in search of quality projects.
KuCoin is an online trading platform providing a service for exchanging digital assets in a secure and efficient manner. KuCoin is a popular crypto exchange with over five million registered users worldwide. In November 2018, 'The People's Exchange' officially announced its association with IDG Capital and Matrix Partners.
The features and low fees offered by the platform offer advanced crypto traders and investors an ideal solution for investing in digital assets. Unfortunately, like many cryptocurrency exchanges, KuCoin does not accept customers from the United States.
Coinbase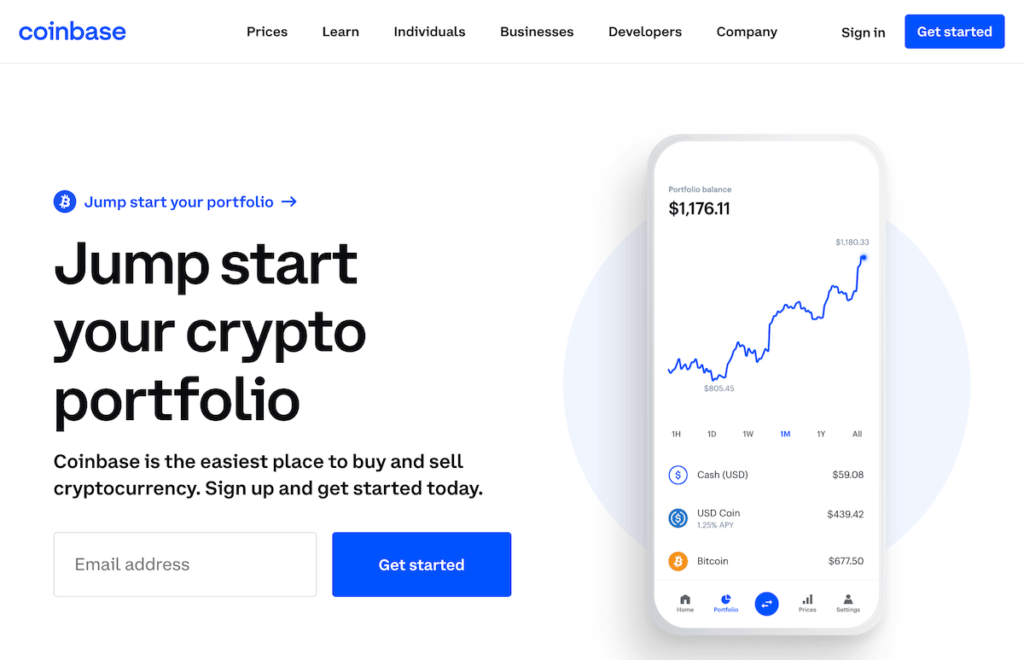 Coinbase advantages:
Buy and sell cryptocurrecy easly
Platform suitable for beginner and advanced traders
Spot and fiat currencies available
Cryptocurrencies and Fiat deposits and withdrawals
US Customers allowed
(Risk Warning: Your capital can be at risk)
Coinbase is one of the most popular cryptocurrency exchanges worldwide, and that is thanks to a user-friendly interface, the backing of trusted investors and customers, and a compliance team that keeps it operating globally, according to its website.
Among the factors that enabled Coinbase to gain an edge over competitors: Trading commissions are low, costing only 0.1% per orders (both market orders and limit orders).
The exchange is available in 32 countries, including the United States, Canada, United Kingdom and almost every country in South America, Europe, Australia, Africa and Asia. The trading site is fully regulated, so governments and financial regulatory bodies wouldn't close it down and is backed by trusted investors and customers, including VCs like Andreessen Horowitz and Union Square Ventures.
"Coinbase is the easiest place for newcomers to buy bitcoin instantly using major currencies," according to PC Magazine. "More experienced traders can take advantage of Coinbase's platform and its functionality."
Coinbase's fees are low, it also offers crypto wallets, and it's extremely user-friendly, so if you're a beginner trader or you're new to the cryptocurrency market, this crypto exchange is a great option. Coinbase users get a variety of benefits for using the exchange's services, including the option for storing digital assets in its wallet, and a place to buy Altcoin and crypto tokens easily. In addition, users can get a referral bonus for inviting their friends.
Kraken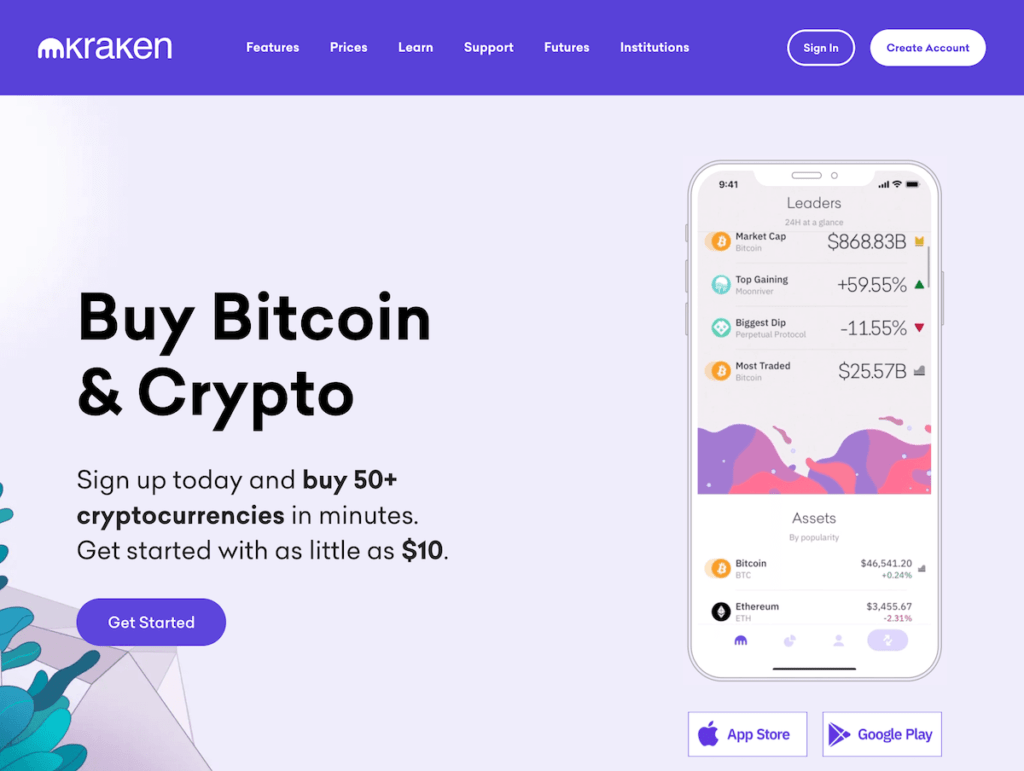 Kraken advantages:
Buy and sell cryptocurrecy easly
Low trading fees
Platform suitable for beginner and advanced traders
Crypto Futures and Spot available
Cryptocurrencies and Fiat currencies deposits / withdrawals
US traders are allowed
(Risk Warning: Your capital can be at risk)
Founded in 2011, Kraken is one of the oldest crypto trading sites, and it has also earned the trust of a wide range of investors and enthusiasts. Kraken supports clients from most countries whit few exceptions.
Kraken is a crypto exchange with low fees and a wide selection of assets available to trade. It is also a US crypto exchange providing margin trading to US clients as well, but USA clients must meet certain criteria to be eligible to margin trading.
This exchange offers the possibility to invest and trade up to 60 cryptocurrencies, including the most popular cryptocurrencies like Bitcoin, Ethereum and Cardano. Deposits and withdrawals on the platform can be done via three stablecoins and can also be done with seven different fiat currencies.
Kraken has 0.09% to 0.25% fees for each trade, depending on monthly trading volume. It also offers market maker rebates of up to 0.15%.
The CEO of the company, Jesse Powell, has appeared on CNBC (among others). "He is known to be one of the most vocal advocates of Bitcoin and cryptocurrency adoption and is a firm believer in the future success of cryptocurrencies," according to Kraken's website.
BitMEX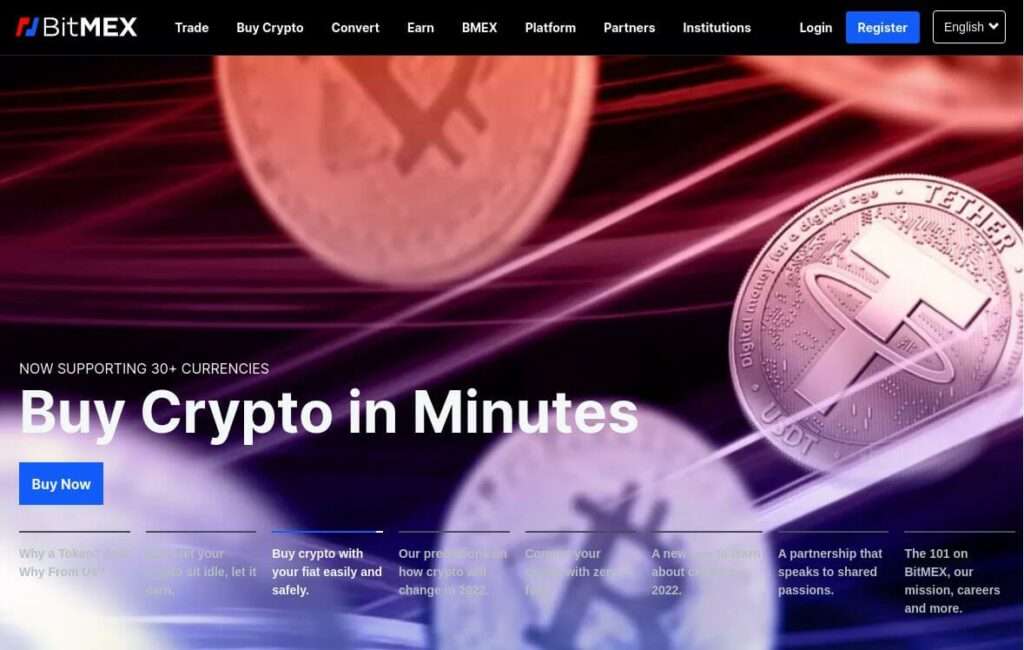 BitMEX advantages:
Margin trading of up to x100
Futures and other derivates offered
Low trading fees and no deposit or withdrawal fees
(Risk Warning: Your capital can be at risk)
Bitcoin Mercantile Exchange (BitMEX) is a leading platform to trade crypto. BitMEX is a platform designed by financial professionals and offers these customers an API.
This crypto trading platform only allows the deposit of bitcoin which serves here as a base currency to buy and sell crypto-currencies, including Bitcoin, Ripple, Litecoin, Ethereum, etc.
BitMEX offers denominated leveraged Futures contracts in Bitcoin. All profits and losses from these contracts are recorded in Bitcoin. Clients have access to a range of tools for leveraged trading as well as educational guides and materials and professional client support.
Unlike other traditional cryptocurrency exchanges, Bitmex specializes in trading derivatives such as futures and margin trading.
Because this platform is a leveraged and derivatives trading platform, Bitmex is an exchange for experienced traders and not for beginners who simply want to buy or sell cryptocurrencies.
Poloniex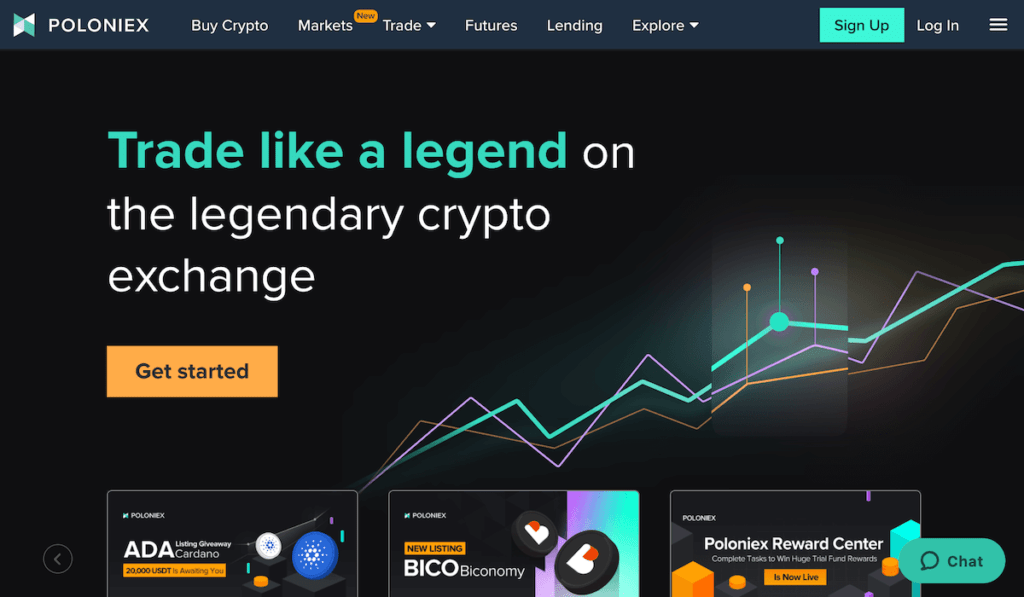 Poloniex advantages
Low trading fees
Supports a wide range of cryptocurrencies
Runs multiple trading platforms
Offers margin trading
(Risk Warning: Your capital can be at risk)
Poloniex is one of the world's most popular cryptocurrency exchanges and was founded in 2014 by Tristan D'Agosta, and is based in Wilmington, Delaware, United States. One of the main attractions of Poloniex is the number of altcoins it offers. With more than 100 digital currencies listed, the exchange supports investors who are looking for investing in Altcoins with great potentials profit.
Poloniex offers trading of over 200 cryptocurrencies, including bitcoin, Ethereum, XRP, Monero and EOS. It also offers margin trading, allowing you to trade cryptocurrencies like bitcoin or Ethereum with levrage to magnify your gains or losses.
Poloniex provides advanced tools and charts that enable experienced traders to execute their strategies.
Poloniex does not charge any deposit or withdrawal fees, but it does take a small fee from the trade. Poloniex uses a maker-taker fee model. Poloniex has some of the lower trading fees. Those fees decrease as trading volume increases. The fee structure is 0.1450% for Maker and 0.1550% for Taker, and can be lowered for traders using Tron (TRX) and offers discounts for large trading volumes.
Bitso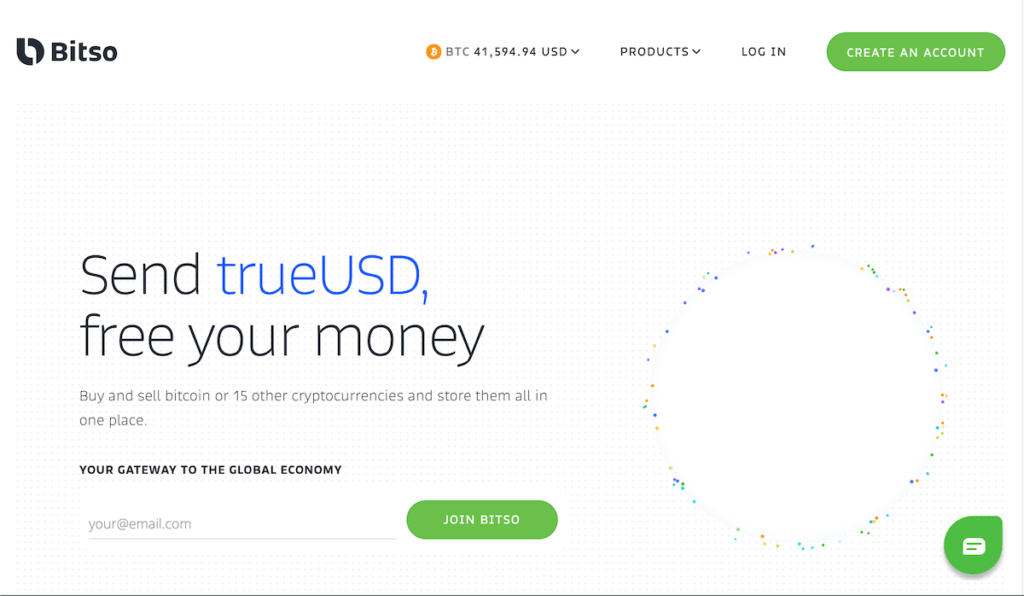 Bitso advantages
Buy, sell, and send currencies easily
Make deposits with local currencies MXN, ARS, BRL and USD
Low trading Fees
(Risk Warning: Your capital can be at risk)
Bitso was founded in 2014 and is based in Mexico. Bitso is a cryptocurrency exchange platform powered by blockchain technology. This crypto exchange is one of the most popular across Latin America, serving more than 3 million users in Mexico, Argentina and Brazil. Bitso offers secure, reliable, and convenient ways for users to acquire, sell, spend and store Bitcoin as well as Ethereum, Bitcoin Cash, Litecoin, Dash, Ripple, and Dogecoin. BitSo uses proprietary security protocols and technologies to safeguard users' accounts and information. Its platform is designed to offer individuals and companies a user-friendly way to buy and sell Bitcoin in real-time, using their local fiat currency.
The trading fees at Bitso are low, with a 0.095% MAKER fee and 0.099% TAKER fee for USD stable coin trading volume lower than 500 000 USD monthly. Traders with large trading volumes can get lower trading fees. Bitso offers lower fees if yous trad with Mexican Pesos (MXN), Argentine peso (ARS), and Brazilian Reales (BRL).
The Mexico-based crypto exchange and platform Bitso process more transactions in Latin America than Coinbase, bitFlyer, and Bittrex combined.
It's available in several Latin American countries, including Mexico, Argentina, Brazil, Chile, Colombia, Costa Rica, Ecuador, El Salvador, Guatemala, Honduras, Nicaragua, Panama, Portugal, Uruguay, and Venezuela.